How are your services priced?
Our services are encompassed within our membership fee. You can choose a pricing choice with or without a visit fee. There is a one-time registration fee of $30 per patient or $60 per family when you sign up to become a member.
MONTHLY MEMBERSHIP OPTIONS
Option A: NO FEE PER VISIT
Single Adult: $70
Family (2 Adults + Children): $170*
Option B: $30 VISIT FEE
Single Adult: $52
Family (2 Adults + Children): $135*
*Additional Children: $15 per child with a $30 maximum per month and must be with a registered adult.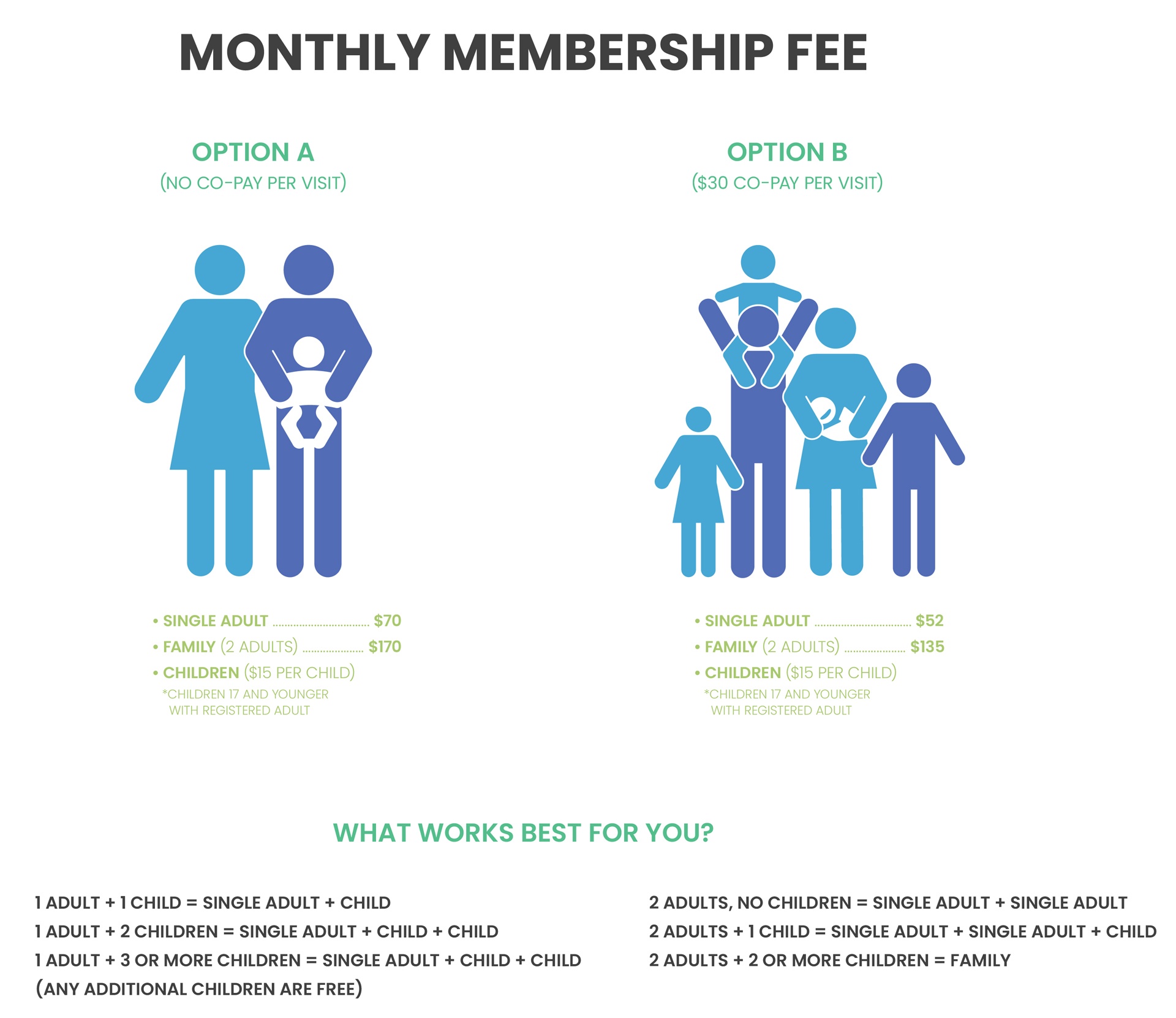 Membership Includes
OFFICE VISITS AND ANY MINOR PROCEDURES

Such as: dipstick urinalysis, fingerstick glucose, stool test for blood, urine pregnancy test, rapid flu test, rapid strep test, breathing treatment, EKG, ear wax removal

AN ANNUAL PHYSICAL AND SCREENING LABS

Includes a complete metabolic panel, complete blood cell count, cholesterol panel, HbA1C (diabetes screen) Note: For patients 18 and older

PAP SMEARS (EXCLUDES THE LAB FEE)
SKIN BIOPSIES (EXCLUDES THE LAB FEE)
JOINT INJECTIONS

Note: Other injections – medications included (except for Vivitrol and all vaccinations, the cost of which is the patient's responsibility)

PULMONARY FUNCTION TEST (BREATHING ASSESSMENT TEST)
TUBERCULOSIS SCREENING TEST (PPD)
STITCHES FOR CUTS / WOUND CARE
ONE PAGE FORMS, SUCH AS WORK EXCUSES

IN ADDITION TO THE ABOVE: Other blood and lab tests (not including the screening lab tests above, which are covered) and in-office urine drug screens are available at a deeply discounted price.